PRIVACY & COOKIE POLICY
Homebuildingnet.com holds the privacy of our customers and members as one of our chief concerns. Below you will find details on how we strive to keep our customers safe and secure, as well as details on how we handle and protect your personal information. Like almost all other websites, this website uses log files to store certain data. Information found in a log file includes information about user visits to our page, such as IP address, the type of browser used, your internet service provider, time and date stamps of your visits, number of clicks and page views, and referring and exit pages. This information helps us better understand our user demographic by analyzing trends and tracking where people seem to be going on our site. However, none of this information is linked to any personal information or any other data which may be used to identify individual users. Our log files are kept safe and securely encrypted within our system, and we use them solely for our own informational purposes.
This website does use cookies to store information about individual user preferences, record data on which pages users access, to customize the user experience based on browser type, and record other information the user's browser transmits. We do not share this information with outside parties.
To help keep your membership cost as low as possible, we use third party advertising companies like Google to serve ads when you visit our website. These companies may use information (not including your name, address, email address, or telephone number) about your visits to this and other websites in order to provide advertisements about goods and services that may be of interest to you.
Third parties which advertise on our site, including Google, may use cookies of their own. When you click on ad links, these services automatically receive information from your browser (not including your name, address, email address, or telephone number), such as your IP address, and may use technologies such as cookies, web beacons or JavaScript to judge the effectiveness of their ad campaigns or to personalize ad content. This website has no control over the use of cookies or such technology by third party advertisers.
As a third party vendor, Google uses the DoubleClick DART cookie to serve ads on our site based on your visit to our site and other sites on the internet. To learn more about advertising and your privacy, or to opt out of the use of the DoubleClick DART cookie, please visit the Google ad and content network privacy policy at http://www.google.com/privacy_ads.html. You can also disable cookies through your browser and disallow this kind of information collection. You can learn more about this by consulting the help guide for your specific internet browser.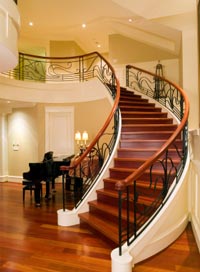 30 Nov 2010
Home Building Company Activities Accelerate in Tuolumne County - Tuolumne County, California is a good place for a home building company right now as...
2 Nov 2010
National Home Builders Celebrate Rise in New Housing Sales - New housing sales rose in the U.S. for September by 6.6% when compared with August...
8 Oct 2010
Custom Home Builders Won Pike County Award - Ed Nikles Custom Builder Inc., one of Pennsylvania's top custom home builders,...